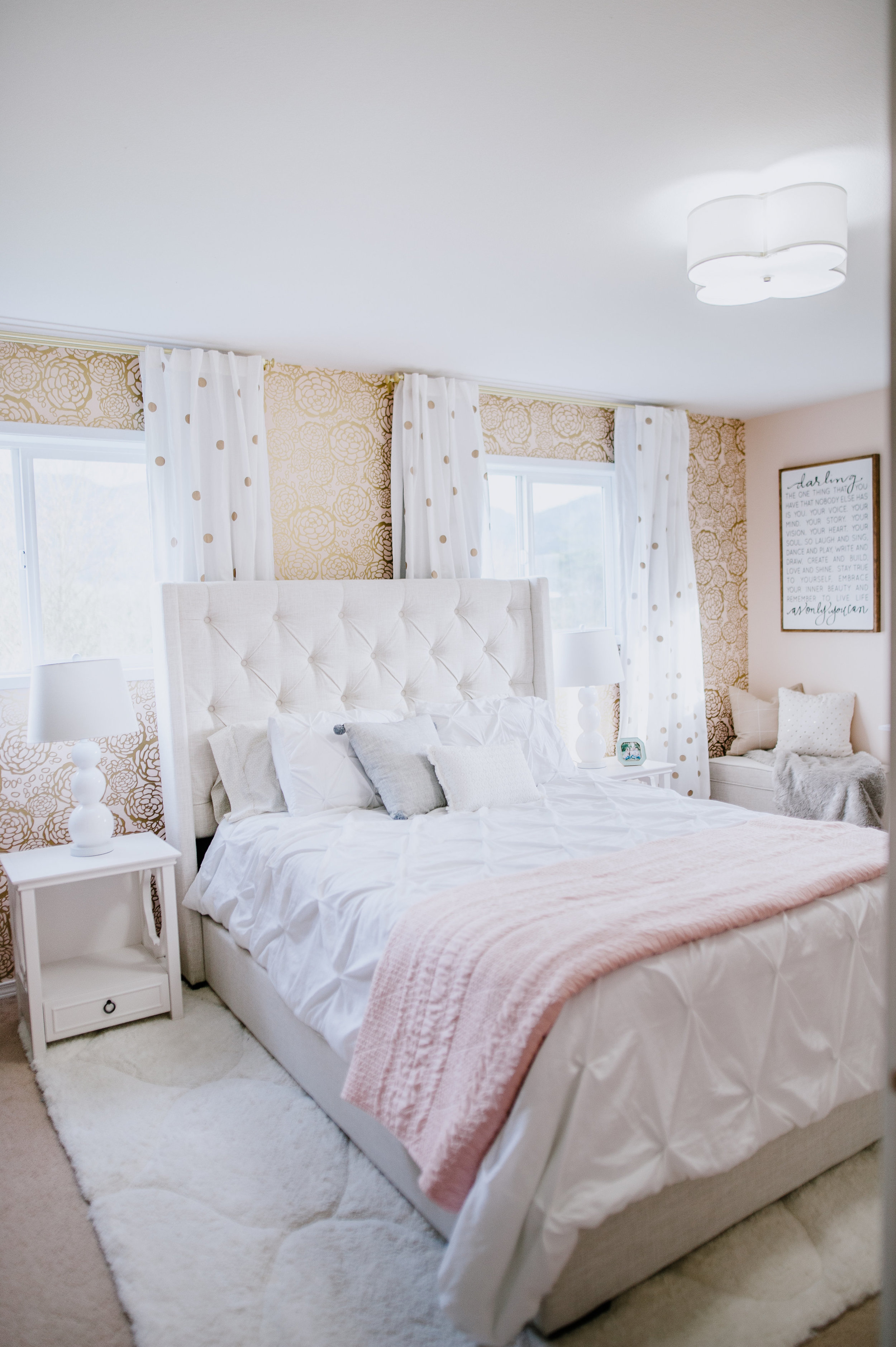 Who loves a good before and after? Me, me! I do! Of course, being the one to pull everything together for the after does remove the element of surprise, buuuuut I still love it.
Our clients had recently purchased their home, and as they settled in to their new digs, they called me to transform their daughter's bedroom into a calm, flowy, pink oasis. I wanted to give the room a feeling of coziness and give their daughter as much control as possible over her environment. That meant blackout and sheer curtains, and an overhead light and desk lamp. And that rug…you guys. I wanted to roll myself up in it and hibernate. I read the reviews on so many rugs to make sure I found one that was a) easy to clean and b) not a shedder! Found a winner with this fuzzy dream. The room had the potential to feel a bit too old for their daughter whose age isn't quite into the double digits yet, so I added a few younger touches like the acrylic desk chair and the teardrop swing.
I knew from the beginning that having a large patterned wallpaper would be a game changer in this little bedroom, and it absolutely was. This gold and pink print was the perfect candidate and was a perfect shade of pink to put on the rest of the walls. Not too cotton candy sweet, not too bland. Juuuust right. Speaking of wallpaper…There's always some sort of snafu that crops up on a project, and this project was no different. When I had placed the order for the wallpaper, I had an estimated delivery by the end of the month (yay!), and scheduled our install off of that. When the delivery date came and went and no wallpaper showed up, I gave them a call. Found out it was on backorder! I suspect they had a few rolls in stock, but perhaps not the entire order.
My clients were so gracious and had no problem pushing through with the original install date, and just coming back in later to hang wallpaper. Whew. The difference from the room being done without the wallpaper, and what it looked like after the wallpaper install was HUGE. It made the room. Are you wondering what it looked like before? Then take a peek at one of my favorite things..+ BEFORE AND AFTER PICS +
+ A FEW MORE TOUCHES +(can't get enough of that wallpaper!)
When I design a room, I like to sketch out what the ideas are like in my head, then build an inspiration board and a mood board. Here's what that very first design idea looked like:+ DESIGN CONCEPT +
The trick is to find things that fit in perfectly with the picture in my head. I think it turned out nearly like I had first envisioned. Loved seeing this space come together, and knowing that even my youngest clients treasure the spaces I design for them.
All the gorgeous "after" photos by the lovely Courtney of Swiss & Dot Photography