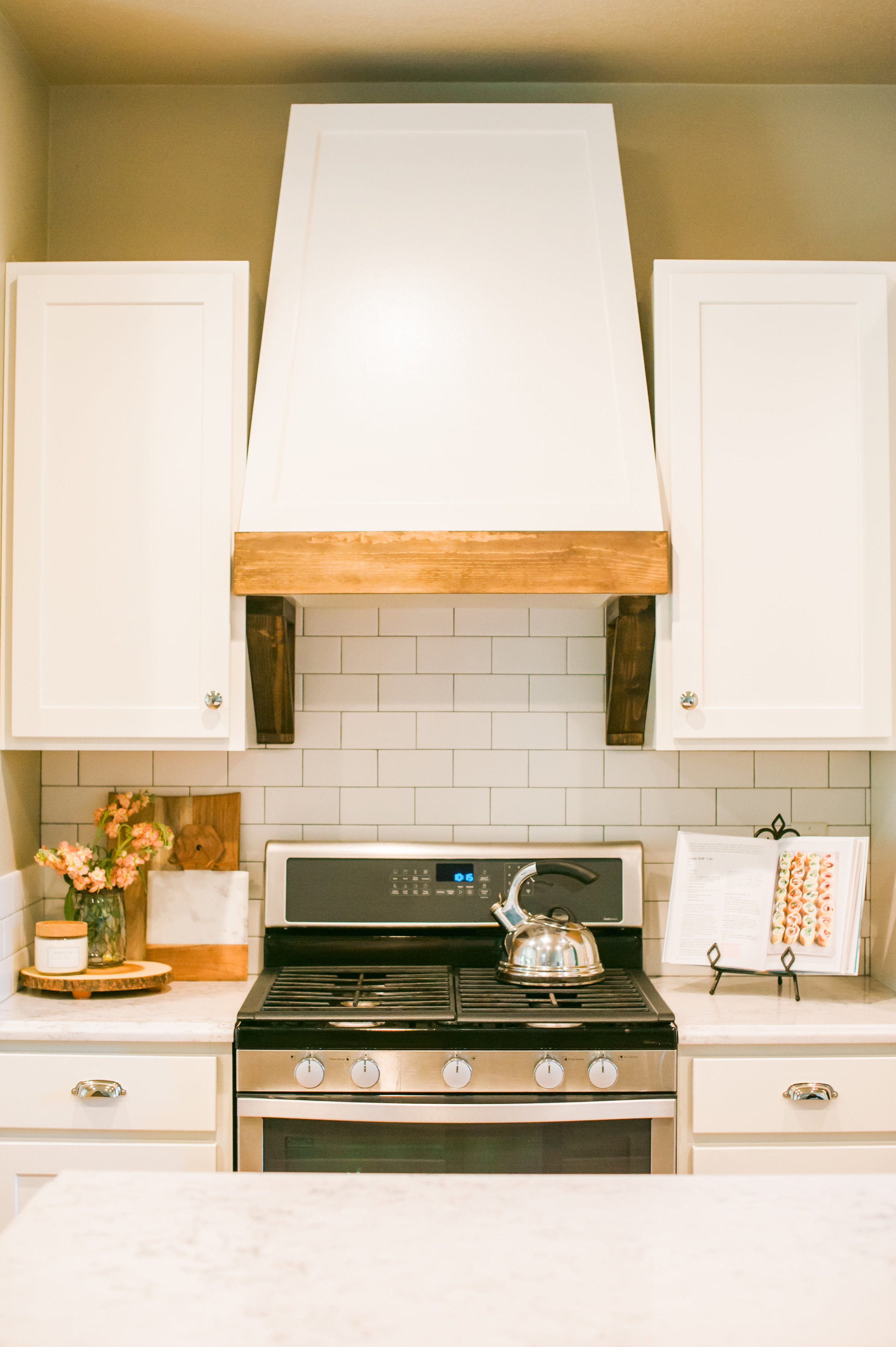 I mean, come on. This kitchen is GORGEOUS, no? Our sweet clients had us do a couple of smaller projects for them before the kitchen renovation. We were so honored (and let's be real…so excited!) to demo their builder-grade kitchen and turn it into what I like to call a posh farmhouse kitchen.Here are a few of the after snapshots:JUST KIDDING. These are before we got our hands on this kitchen.
The tile countertops have to go amiright?The cabinets were in good shape, but nothing like the beautiful white shaker style ones they had in mind. The island wasn't a practical place for their family to eat, so the hang off on the end to accommodate bar stools wasn't necessary to keep in the new design.
They weren't crazy about the microwave above the oven. While practical, it just wasn't going to give them the "wow" factor they were looking for. It was relocated to the new island and a custom hood was built.
Every farmhouse kitchen needs a farmhouse sink!
The main cabinets are a shaker style in a french vanilla color, and the custom island is a soft gray. The french vanilla is not quite as stark as a crisp white and almost feels like it has a blush undertone. Quartz counter tops are THE BEST. They are comparable in price to granite, but they are virtually zero maintenance. That's totally my jam. Raspberry is my jam too by the way. An ogee edge gave the countertops a very sophisticated look.The custom hood was so much fun to make (and by make, I mean watch Ryan make 'cause he's got the skills with those number things and measuring and stuff).I chose a subway tile with a matte finish so it didn't compete with the countertop, keeping it feeling like a perfect mixture of glam and casual. The shepherd's crook faucet and cup pulls on the cabinets in the same finish bring a cohesiveness to the space.
All these little touches throughout the kitchen really tie the whole thing together. From the custom floating shelves to the marble rolling pin and (real!) herbs in diy labeled pots, this kitchen is posh down to the last detail.OH! We also did a little something in their laundry room that is directly off the kitchen. A countertop was put above the washer and dryer and two cabinets were installed that are the same color and style as the island. The subway tile behind the shelving really pops, doesn't it?!
See? Posh farmhouse. Fitting, no?
Photos: Xiomara Gard Imago Dei Photography
Flower arrangement: Sunflower Flats